Our first Term 3 Artwork is going to be a Wintry Landscape. Let's get inspired by the works of artist Caspar David Friedrich.
"Winter Landscape" 1811
"Winter Landscape with Church" 1811
"Oak in the Snow" 1827-1828
"Snow Covered Hut" unknown
"The Abbey in the Oakwood" 1809-18`10
"Dolmen in the Snow" unknown
"Graveyard Under Snow" 1826
"Monastery Graveyard in the Snow" 1819
Unfortunately, this artwork was destroyed during the air-raids of World War II, and Friedrich only had this black and white photograph of the actual painting. It is said to have been one of his best, most haunting artworks.
Many other artists have recreated "Monastery Graveyard in the Snow" as a homage to Friedrich. See this almost perfect version below, by a Japanese artist.
Friedrich was a Romanticist painting. The Romanticists artworks were full of storytelling and emotions, he was not just painting the landscape and weather but a certain mood that goes with it.
What sort of moods do these artworks create?
Our artwork is going to consist of a bare winter's tree in the snow. Here are some ideas for inspiration.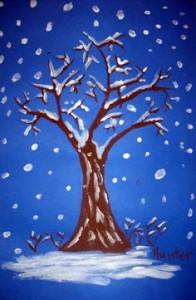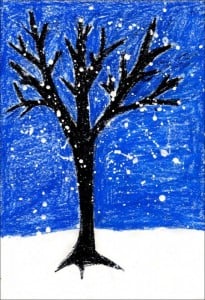 Let's look at this video to see an easy way to paint trees!