Posted by
missbeavis
in
Uncategorized
, tags:
comprehension strategies
,
how do you synthesise
,
into the book
,
part part whole
,
reading comprehension
,
reading groups
,
synthesis
,
synthesising
,
synthesizing
This term we are learning how to Synthesise when we read. Synthesising is when your thinking changes or evolves as you read. 
You can visit the website "Into the book" to complete an activity about Synthesising.
Step 1: Go to the website and click 'Kids' (skip login)
Step 2: In the Students Area click 'Synthesising'. Click 'Part Part Whole'.
Step 2: Listen to the Introduction and Watch the video.
Step 3: Click 'Try it Yourself' and do the activity. Repeat with different starting images!
Now that you know the steps, you can visit the site and get started!
Click the image below!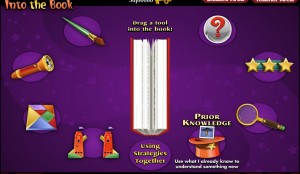 No Comments »